---
Home | Fruit Tasting & Tour | Buy ONO Products | About ONO Farms | Mailing List | Contact Us
---
Charles Boerner Consultants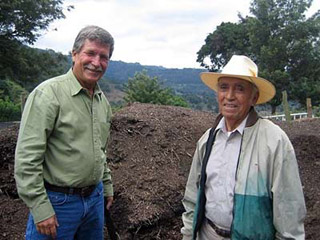 We specialize in organic farming of coffee, chocolate, tropical and exotic fruit, and vegetables by nurturing the whole life cycle of food production with sustainable growing methods.
Charles "Chuck" Boerner draws on knowledge, wisdom, and relationships gained during a lifetime of organic farming experience in Hawaii, including more than 30 years as president/owner of ONO Organic Farms. As a consultant, he leads a network of organic farming experts who provide input, advice, and support services for specific projects.
Contact us to schedule an introductory, one-hour telephone consultation. Or, call Chuck's cell phone: (808) 344-6700.
In the photo to the right, Charles Boerner (left) consults with an organic coffee farmer in Costa Rica.
Grow Your Own Food
Part of the dream of owning a farm in the tropics is to produce what you and your family like to eat. The Boerner family grows a lot of what they eat. Most of the rest of what they eat is grown locally. Charles Boerner Consultants can provide you with expert advice and assistance to grow food on your land that will nourish you, your family, business, and the soil in which it grows.
Who We Serve
Charles Boerner Consultants serves organic and conventional farmers, family farms and corporate farms, farms preparing for organic certification, hotels, stores, restaurants, farmers markets, road-side stands, trade organizations, community supported agriculture, institutions such as hospitals and schools, agricultural tourism, agricultural events, and native agricultural villages.
Commercial Farmers who want to increase quality and quantity of production while lowering water use and other inputs.
Transitional Farmers who want to transition to organic agriculture while increasing production and quality.
Organic Farmers who want to fine-tune tropical organic farming methods to increase quality and quantity using micro and macro organisms found in properly made compost and compost tea.
Hotels and Restaurants: On-site and off-site gardens and orchards that complement chefs and their special culinary needs.
Family Farms: With more than thirty years of professional experience growing, packing, and marketing fresh fruit on Maui and in Hawaii, Charles Boerner Consultants can integrate an individually-designed composting operation into a household of any size using vermiculture and other odorless composting methods.
Farmers Markets and Road-Side Stands: Charles Boerner Consultants can help manage excess food production when you grow more than your family, neighbors, and friends can eat. Chuck helped start two farmers markets and regularly participates in several farmers markets on Maui and Oahu.
Services and Benefits
Organic Farming: Increase your production yields while increasing the sustainability of your soil. Nourish your soil as you produce more food and food that's healthier, more delicious, and more nutritious - for you and your soil. Grow food without pesticides and chemical fertilizers. Charles Boerner Consultants can advise and guide your farm through the transition to certified organic farming.
Charles Boerner Consultants are experts in holistic, sustainable, and organic farming. We provide advice for coffee certification as fair trade, bird-friendly, shade grown, and organic. We emphasize the importance of species diversity, from the kinds of micro organisms in your soil to the variety of crops grown.
Farm Plans: Charles Boerner Consultants can design a farm plan for you that's unique and specific to your property with step-by-step recommendations for improving your farm operation. We perform site evaluations and aid in determining what to plant where. We consider location, time of year, conditions, resources, and objectives.
Soil, Water, and Compost Testing: We practice soil and water conservation as an integral part of sustainable farming. We facilitate soil, water, and compost testing, interpret results, and make recommendations for improvement. We track and monitor soil fertility and overall soil health and can show you how easy it is to do.
Composting Systems: Understand the importance of composting. Learn why and how to make and use compost to increase soil fertility and improve biological activity in your soil. Charles Boerner Associates can teach you how to compost your food waste and use it to grow your garden and/or farm. Create a household-size worm compost system. Involve children and the whole family. Feed food scraps to your compost, watch worms eat, spray compost tea in your garden, complete the circle.
Traditional Hawaiian Hale: Charles Boerner provides consulting services related to design and construction of traditional Hawaiian Hale, including individual structures and small villages (see qualifications below).
Solar Power: ONO Organic Farms is 100% off the electric grid and uses solar power for electricity, hot water, and the dehydration of fruit and coffee. Charles Boerner Consultants advises households and farm operations on the design, installation, and use of solar and other alternative power systems.
Background and Qualifications
When Charles "Chuck" Boerner was born on the island of Oahu in 1945, his paternal grandfather purchased land in Hana, Maui and began what is now a four generation Boerner tradition - organic family farming in Hawaii. Now president of ONO Organic Farms, Chuck was raised on the islands of Oahu and Maui knowing, "the key to our wealth is our health."
Charles Boerner earned a Bachelor of Science in Civil Engineering and a Bachelor of Science in Industrial Economics at Union College in New York. He was a Board Member of Hana District Soil & Water Conservation Services for three years, founding President of the Hawaii Organic Farmers Association (HOFA), past President of Maui County Farm Bureau and current member of the state organic committee. Chuck is also a Certified Soil Foodweb Advisor in association with Dr. Elaine Ingham of Corvallis, Oregon and her worldwide affiliate laboratories.
Charles Boerner completed all of the requirements for Indigenous Hawaiian Architecture Certification (Hale Kahiko O Hawai'i) in 2003. As a result, he now assists with design, construction, and interpretation of Maui County codes related to building traditional Hawaiian structures.
Charles Boerner is an advocate of GMO-Free farming.
In addition to working as a farmer and consultant, Chuck is the 2005 winner of the Hana Surfing Games in competition among men over 40 years of age. In 2006, he finished in second place. Four years ago, in Oceanside, California, he won the 2002 U.S. Surfing Federation National Championship in the Legends Division among men 55 and older.
Success
Established more than 30 years ago, ONO Organic Farms, Inc. is a 50-acre, certified organic, exotic, tropical fruit, coffee, and chocolate farm in Hana, Maui, Hawaii on the southeastern slopes of Haleakala volcano.
Owned and operated by Charles Boerner, his wife (Lillian), and their children, ONO Organic Farms produces thousands of pounds of papaya, banana, avocado, and other tropical fruit every week. These products and others are distributed by ONO Organic Farms to local health food stores, supermarkets, hotels, restaurants, individual households, and farmers markets throughout the islands of Hawaii.
Advice from Charles Boerner Consultants has enabled Maui's largest pineapple producer to improve their organic production.
One of Maui's finest restaurants owns two local farms that grow food, one in a high elevation and another at low elevation. Charles Boerner Consultants provides advice and recommendations for both.
In May 2004, in conjunction with "The Coffee Corps," Charles Boerner provided advice to a group of organic farmers in Panama to increase quality and production.
When Guatemalan coffee farmers sustained losses in production yields as great as 50%, they called Charles Boerner for his "unique blend of business skills and personal experience." Chuck spoke to nearly 200 coffee farmers in Guatemala sharing information on best practices for organic farming and opportunities for raising production and higher quality coffees, which claim higher prices.
In February 2006, Charles and Lillian Boerner provided on-site consulting services to organic coffee farmers in Ethiopia regarding proper pruning and composting methods.
Bottom Line
Charles Boerner Consultants can provide you with advice that will enable your farm to be more successful. Complete and submit the fill-out form on our Contact page to request an introductory, one-hour telephone consultation. Or, call Chuck's cell phone: (808) 344-6700.

---
Home | Fruit Tasting & Tour | Buy ONO Products | About ONO Farms | Mailing List | Contact Us
---
www.onofarms.com/consulting.html
©2004-2014 All rights reserved.

E-Mail: info@onofarms.com
Telephone: (808) 248-7779