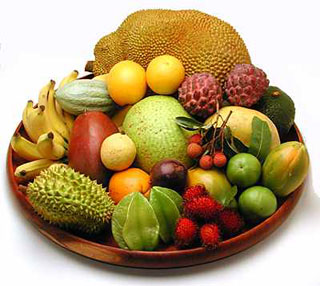 Photo: Tropical fruit grown at ONO Organic Farms
located on the world-famous Road to Hana.
ONO Organic Farms of Maui, Hawaii

ONO Organic Farms is a family-owned and operated, certified organic, hand-picked, tropical fruit and coffee farm located on the world-famous "Road to Hana" on the southeastern slopes of Haleakala volcano on the Hawaiian island of Maui.
The climatic conditions of Kipahulu, Maui nourish a unique, isolated environment for delicious ("ono" in Hawaiian) exotic tropical fruit, coffee, and chocolate.
ONO Organic Farms delivers fresh organic fruit and coffee to homes and businesses on Maui and ships a variety of ONO Organic products worldwide.
Charles Boerner Consultants provides expert consulting services for family and commercial farms in Hawaii and around the world.
Enjoy an exotic, tropical fruit tasting adventure for all ages, including at least 12 varieties of tropical fruits, delicious ONO-grown coffee and chocolate, plus a special tour of our pure organic paradise.
ONO Organic Farms is Maui's Organic Family Farm.